Australia is one of 7 continents. See these simple suggested explanations of how these continents were formed breaking Australia away from Gondwanaland.  Click this link for more information:   7 Continents Interesting Facts for Kids.
Australian Aboriginals tell of creation in their Dreamtime story, The Rainbow Serpent.
Australia's settlement and lifestyle have been influenced by its diverse physical environment.
This environment has been altered by natural and human forces.
Where in the World is Australia?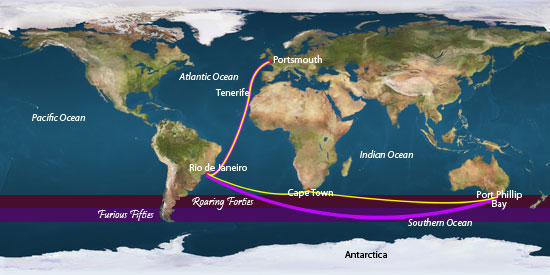 Here is the location of Australia on a world map. The routes mark the voyages of ships from Portsmouth, England to Melbourne, Australia in 1803.
Some symbols of Australia are: The Flags, the Coat of Arms, the floral emblems and the coins.
Click this link to find some more information about these for your Group Research. 
Unique Australian Animals
Australia has many unique birds, animals (mammals, marsupials, reptiles) and aquatic creatures.
Do you know which parts of Australia these different animals live in? How many of those have you seen in real life? Did you see them roaming free in nature or were they being protected in zoos and reserves? Do you know which ones are threatened species?
Australia's First People
Australia's Indigenous People came here more than 40,000 years before European settlement. The Western Australian Government has a Resource Centre, acknowledged by the Department of Aboriginal Affairs, where you can research the history and life today of Australia's first people.
European Settlement in Australia
Did you know that Australia is a continent, a country and an island?
Federation took place in 1901. Click here to learn more about Australia's Federation.
Can you name all the States, Territories and Capital Cities of Australia? Use this map to help you (Click on the map to enlarge it).
Click on this link to see The Great Southern Land of Australia on Google Earth. You can zoom to see our country in perspective with the rest of the world. You can zoom in to see more detail of our wonderful land.
Australia's Natural and Man Made Landmarks
Can you name any natural Australian landmarks? Which ones have you visited? What about Man Made ones?  Explore this link to enjoy many wonderful landmarks around our Great Southern Land.
Australians work in many different industries such as agriculture, horticulture, fisheries, forestry and minerals.
Tasmania.    Rita's Australian Outback Facts about the States.   N.S.W,    South Australia,  Northern Territory,  Victoria & Melbourne. You can also read about Queensland and the A.C.T.
Here is a quick link to the Get About Australia Blog.
Here is a link to read About Australia. Find out about some wonderful places you may like to travel to. Visit our Australian Tourism Website to explore holiday destinations of our Great Southern Land.
Many people from all over the world love to visit or immigrate to this Great Southern Land of Australia. You can click this link to see YouTube clips of their stories on the My Australia Series.
Aussie Sing-A-Long
Join in and Sing with Bob Brown's Give Me a Home Among the Gumtrees. 
What Australian places have you been to? I've Been Everywhere, Man! (with Lyrics) and I've Been Everywhere, Man! (with pictures)
Enjoy the pictures of Australian scenes as you sing I Am Australian with The Seekers
ANZAC Day
Many Australians who have immigrated here from around the world have worked hard to enhance our lives and have fought to protect this Great Southern Land.
'On the 25th April each year we commemorate Australia's involvement in World War I and remember anyone who has served in a war or conflict as well as those men and women still serving in the Defence Forces today.
It was on 1 November 1914 that the first convoy of Australian and New Zealand ships left Albany in Western Australia to transport the ANZACs to the battlefields of World War I.
When most people think of the ANZACs, they think about the infamous landing at Gallipoli on 25 April 1915. The 100th anniversary of this moment will be commemorated on  ANZAC Day, 2015 in Australia and in some other countries around the world.
Of all the events in Australia's history, the battle at Gallipoli in World War I stands out as having defined the spirit of our nation.
The story of the ANZACs who fought at Gallipoli is one of perseverance and courage in the face of failure and despair.
After four months of training in Egypt, the ANZAC troops left for Gallipoli. At dawn on 25 April 1915 they landed at a beach now known as ANZAC Cove. The ANZACs had landed in the wrong position. They had meant to land on a flat beach where they would have had a better chance of reaching the shore to attack enemy troops.
Instead, the ANZACs and the Turkish troops reached a deadlock, with neither able to take any new ground for months. The ANZACs began evacuating on 20 December 1915. The Australians had spent only eight months in Gallipoli, but in this short time had suffered 25,000 casualties, including 8700 deaths.
The bravery and endurance of Australian troops in the face of death is what turned this horrific event into a legend that has helped to shape our country.'
(This excerpt is from the website forteachersforstudents.com.au )
Lee Kernaghan sings 'Spirit of Australia'.
Let us Pray 'We Interrupt This War'.